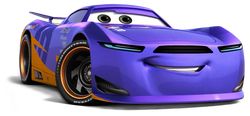 This is the 2021 Piston Cup Season. After Jackson Storm caused a severe crash which injured Ryan Laney in the 2020 Dinoco Light 350, he has been banned from the Piston Cup. Tim Treadless, Aaron Clocker, Herb Curbler and Noah Gocek were also fired because of their poor performances during 2016 to 2020.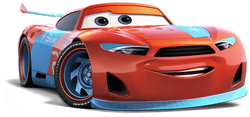 Rookies Kevin Jacobson, Joey Pitcrews, Henry Lugnut, Ace Cohen, Joel Carterson, Finn Lowtire, Jet Simmons and Klint Shiftright Jr debuted in the 2021 Florida 500. Klint Shiftright Jr being Clutch Aid's 5th Shiftright after Kurt, Kraig, Klint and Kevin. Joel, Ace, Finn and Henry debut in new sponsors, but Klint, Kevin, and Joey replace other racers. Herb Curbler's replacement is MIndy Gearson, the only female rookie and the final rookie to debut for the 2021 Piston Cup. There will be a new race called the "Buc-ees 500" replacing the Virginia 400 at Cartinsville.
Chick Hicks is also going to be replaced as announcer by Jeff Gorvette since he wanted to focus on his show more since he didn't air that many episodes in 2020.
This season will also celebrate the 10th anniversary of Cars 2 and the 50th anniversary of the Year Of The King which was the 1971 season in which The King won most of the races. 44 RACERS DID COMPETE WITH 2 PART-TIMERS AND 42 FULL-TIMERS!
Massive mid season changes were announced shortly before the Vitoline 350. George New-Win would be fired after the Vitoline 350 with Eric Jones replacing him and Zach Wheeler replacing Eric Jones at Pepsi. Danny Swervez won the title.
Schedule dates here: 2021 Piston Cup Season Schedule Dates
Championship Standings here: 2021 Piston Cup Season Standings
Racers
Intersection 00 - Flip Dover
Tow Cap 4 - J.D. McPillar
SynerG 5 - Eric Braker
Transberry Juice 6 - Bubba Wheelhouse
Combustr 11 - Chris Roamin'
Easy Idle 15 - Harvey Roadcap
Texas 16 Auto Parts 16 - Zach Wheeler (Florida 500 to Vitoline 350)
Octane Gain 19 - Danny Swervez
Pepsi 20 - Eric Jones(Florida 500 to Vitoline 350), Zach Wheeler (Fiber Fuel 400 to Los Angeles 500)
Blinkr 21 - Ryan Laney
Vitoline 24 - Chase Racelott
Nitroade 28 - Kevin Jacobson (Rookie)
TripleDent 31 - Cam Spinner
Mood Springs 33 - Ed Truncan
Trunk Fresh 34 - Steve LaPage
Tank Coat 36 - Rich Mixon
View Zeen 39 - Michael Rotor
Revolting 48 - Joey Pitcrews (Rookie)
Dinoco 51 - Cruz Ramirez
Leak Less 52 - George New-Win (Florida 500 to Vitoline 350), Eric Jones (Fiber Fuel 400 to Los Angeles 500)
FWD 54 - Mindy Gearson (Rookie)
Fiber Fuel 56 - Monty Piceski
Tide Laundry Company 57 - Ace Cohen (Rookie)
RPM 64 - Barry DePedal
Carbon Cyber 67 - Jim Reverick
N20 Cola 68 - H.J. Hollis
Gasprin 70 - Richie Gunzit
Rev-N-Go 73 - M Fast Fong
Vinyl Toupee 76 - Will Rusch
Retread 79 - Maximus Inngas (Part Time Rookie)
Gask-Its 80 - Dan Carcia
Amazon 81 - Joel Carterson (Rookie)
Shiny Wax 82 - Conrad Camber
Buc-ees 83 - Henry Lugnut (Rookie)
Apple 84 - J.P Drive
Rolling Groove 89 - Thomas Revsbit (Part Time Rookie)
Bumper Save 90 - Paul Conrev
Sputter Stop 92 - Sheldon Shifter
Spare Mint 93 - Nick Shift
Coca Cola 96 - Finn Lowtire (Rookie)
Walmart 100 - Jet Simmons (Rookie)
Lil' Torquey Pistons 117 - Spikey Fillups
Clutch Aid 121 - Klint Shiftright Jr (Rookie)
No Stall 123 - Jonas Carvers
Race Winners
Championship Standings
Danny Swervez
Ryan Laney
Chase Racelott
Cruz Ramirez
Bubba Wheelhouse Jr
Paul Conrev
Joel Carterson
J.D. McPillar
Rich Mixon
Eric Jones
Conrad Camber
Henry Lugnut
J.P. Drive
Sheldon Shifter
Jonas Carvers
Zach Wheeler
Jet Simmons
H.J. Hollis
Ace Cohen
Flip Dover
M Fast Fong
Michael Rotor
Harvey Rodcap
Kevin Jacobson
Ed Truncan
Monty Piceski
Klint Shiftright Jr
Spikey Fillups
Barry DePedal
Dan Carcia
Will Rusch
Steve LaPage
Mindy Gearson
Joey Pitcrews
Chris Roamin
Richie Gunzit
Finn Lowtire
Cam Spinner
Jim Reverick
Eric Braker
Nick Shift
Max Inngas
Thomas Revsbit
George New-Win
Gallery
Trivia
This season has the most racers since the 1980's.
This season has the most rookies since 2007.
This is the first season to have 2 female racers.
---
Piston Cup Seasons
<< 2020 Piston Cup Season | 2022 Piston Cup Season >>