This article is under construction.
This article is under construction, meaning parts of this page are unfinished or inaccurate. Please help contribute by adding photos, information, correcting mistakes, and improving the overall quality.

The Piston Cup Racing Series, known as the Hudson Hornet Piston Cup Series in the 2010 and 2011, is an auto racing series championship that hosts Piston Cup Seasons that takes place in North America. From late 2016 to present-day, high-tech next-gen racers are dominating the circuit. When winning a Piston Cup season, you are awarded with the Piston Cup trophy.
To enter the Piston Cup Racing Series, you just have to apply for a Piston Cup team, and hope they accept you. You should at least know the basic things about racing, even if you don't have much racing experience. You also have to be a car model which is acceptable for racing and if not you have to change models into one that is acceptable for racing. You also need to pass a fitness test made by the Piston Cup staff.
History
1940-1950s seasons
The 40s and 50s were only on dirt. After Jay Roper won the inaugural Cup, the series was on hold until 1946 due to WW2. After the series came back, the Hudson Hornet was the man, winning three straight cups from 1951-1953 before having his career-ending crash in the 1954 Fireball Beach 500.
1960-1980s seasons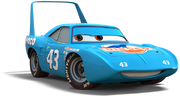 The 60s, 70s, and 80s saw less dirt tracks and more asphalt and Strip Weathers was the guy in this time period, winning the 1971, 1975, 1980, 1987, and 1988 championships. The Shiftright family was also dominant, winning the 1961 Cup with Kurt and the 1977 and 1978 with Kraig. Underdogs also won Piston Cups, such as Andrew Axler in 1976, and Bill Brady in 1979. The 1988 season is known for its two tragedies, Tom Landis', and Don Chapcar's death.
1990s seasons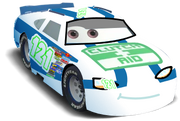 The 1990s and 2000s saw pure asphalt. The early 90s saw dominance from Klint Shiftright, who won three Cups in 1990, 1991, and 1993. Haul Inngas took a surprise Piston Cup in 1992. Strip Weathers won another title in 1998.
2000s seasons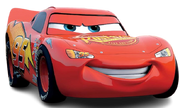 In 2001, Strip Weathers yet again won another championship, being his last Piston Cup championship for him to win as a 7-time champion. Cheater Chick Hicks was known more for his antics more than ever. 2005, well we all know 2005. Lightning McQueen was the leader following 2005, winning the 2006, 2007, and 2009 titles. Cal Weathers won 2008.
2010-2015 seasons
The 2010 to 2015 seasons saw pure dominance from McQueen, who won the 2010 (he won 20 races in 2010), 2012, 2013, and 2014 titles. Cal Weathers won 2011. Bobby Swift was also a dominant force but never won a title. Brick Yardley won the 2015 Cup. 2015 was the last season to have only veterans debut.
In 2016, Lightning McQueen was planning on getting his 8th Piston Cup, which would guarantee breaking the record of the Piston Cups. McQueen won several races in the beginning and middle of the 2016 season. But then at the 2016 No Stall 350, Jackson Storm debuted and won his first race. After the No Stall 350, 6 more next-generation rookies debuted, with 6 veteran racers fired to make room for the rookies. Jackson Storm was very consistent in 2016, and ever since his debut, he won every single race in the season, and Lightning McQueen finished lower than he used to be due to the next-gens being more fast. Lightning McQueen had a big slump when Storm was winning several races.
After the Bumper Save: Gears and Glory 450 race, reporters questioned to Rusty and Dusty, the owners of racing team Rust-Eze, if Lightning was planning on retiring. Lightning became frustrated and told the reporters he wouldn't take any questions. One of the reporters asked one more question regarding if Lightning knew about veteran racer Cal Weathers retiring. Lightning replied to the reporter he wouldn't take any comments about that either. Later, Lightning found Cal Weathers and his pit crew leaving. Lightning went to talk to Cal and asked why he was retiring. Cal replied that he asked his uncle when it was time to stop racing, and his uncle had told him that the youngsters would tell him. As Cal reversed to his hauler, he told Lightning that he and him had good times together, and he would miss that the most. Cal and Lightning said goodbye and Cal's hauler left.
More changes happened after the Bumper Save: Gears and Glory 450 race, several veterans have been fired to make room for the younger and faster next-gen racers according to racing analyst Natalie Certain.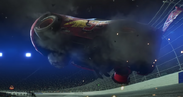 On lap 160 in the 2016 Los Angeles 500, the last race of the 2016 Piston Cup season, Lightning McQueen made his way to pit road with Jackson Storm in front of him. McQueen told Guido, his racing pitty, to make a quick pit-stop to guarantee that McQueen would be out of the pits before Storm. McQueen succeeded in that, however, Storm quickly caught up to him. Storm passed McQueen and told him to "enjoy his retirement", indicating the Storm believed that McQueen would soon retire as a Piston Cup racer. As Lightning tried to catch up to Storm, he got frustrated, and next-gen racers Daniel Swervez and Chase Racelott passed him on the race track. Lightning McQueen than crashed very badly on the backstretch, and went airborne and flipped multiple times. The race was red-flagged after the crash, and the race went on shortly afterwards, Jackson Storm won the race and the 2016 Piston Cup championship.
2017 saw the whole field as next-gens. Cruz Ramirez debuted and became the first female since 2007 to win a Piston Cup race. She won multiple races and became the second ever female champion after Louise Nash did in 1957.
2018-present seasons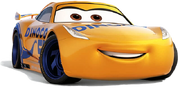 Since 2018, Cruz has dominated, winning the 2018 and 2020 titles. Jackson Storm won again in 2019 but was booed because he likes to crash and wreck cars for the win. He was banned from racing in the middle of 2020. Daniel Swervez won the 2021 Piston Cup.
Racing Divisions
Divisions
Racing Series
Age requirement
Division type

At least 18
Main Division

At least 18
Predecessor of Main Division

(2nd Division)

At least 18
Predecessor of Main Division

(2nd Division)

At least 17 (17-20)
Predecessor of 2nd division

(3rd Division)

Piston Cup Goody's Dash Series
At least 18
Predecessor of 2nd division

(3rd Division)

At least 13 (13-16)
Predecessor of 3rd Division

(4th Division)

At least 18
Predecessor of 3rd Division

(4th Divison)
Corresponding Divisions

| Racing Series | Age requirement | Division type |
| --- | --- | --- |
| | At least 18 | N/A |
| | At least 18 | N/A |
Logos
Trivia
The Piston Cup Racing Series is based off from the real-life racing series of NASCAR.
From 2016 onwards, its harder to get in the Piston Cup due to the next-gen interest and busy sponsors, but CARCA, Xfinity and Trucks will be allowing stock cars to race. Stock cars can change models to next gens though with the Next gen upgrade package.