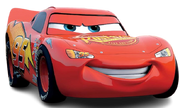 Hello, my name is Cars 95 and I am the president of this wiki. I was formerly a random user but became president after I wanted to make this wiki a better place.
I welcome every new user to this wiki unless if it's a troublemaker which makes vandalism and adds things most of us disagree with. I love Lightning McQueen and every other character in the franchise but I hate the villains of the franchise. I'm also neutral to next-gens as I like most of them due to they're cool design and sometimes dislike them as they replaced the stock cars and some of them look like big jerks.
I also own the WGP and WATG wikis.
Friends
Win95
Ruby
Ferrari Fan
TJ6
Fernanxa
Slide
Logan
Disney Docket
Markus (Formerly)
Some annonymus users
Neutral
Enemies
Manny
Asherpate (Formerly)
Markus