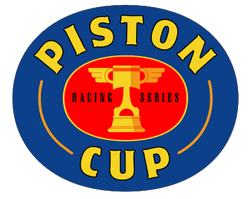 Hello there, <insert name here>! Welcome to the Piston Cup wiki community! This wiki is a fan-made cannon site that focuses on the Cars franchise. This wiki is full of a lot of creativity made by the users of this wiki. Sometimes articles are detailed with confirmed information from the movie canon of the Cars franchise; other times the users of this community get creative and add their own information on the racers. Before you start editing at the wiki, we kindly ask you to look at our rules and guidelines of this wiki so you can familiarize yourself with the policies this wiki enforces.
More information
Here is a list of information and some navigation around the wiki. We appreciate your stay at the Piston Cup wiki!
Meet the leaders of this wiki!
Click here to view the leaders of this community! These are the users that you can feel free to ask them questions regarding anything in relation to the wiki or our cannon.
Sign up to help out the community!
Click here to learn about how you can sign up to help out the issues that are going around at this wiki!
Be sure to take a look at the next Piston Cup season!
Click here to see the 2022's Piston Cup season, it will be the next upcoming Piston Cup season in the Racing Series! Be sure to stay tuned for the races that will be streamed on our YouTube channel!
Apply to become an administrator!
Click here to apply to become an administrator at the Piston Cup wiki!